Dave Mills
Senior Pastor
Dave has been Olivet's lead pastor for over 25 years, having previously served Christ through ministries in Bainbridge Island, Washington, Ventura, California and Canoga Park, California. Dave is a graduate of U.C.L.A. and also Fuller Theological Seminary. The love of his life is his wife, Karen, of 32 years and their three children. Dave's passions include worship and discipleship and he enjoys racquetball and backpacking on the side.
Email: dkmillsfam@aol.com
Kristen Watson
Administrative Pastor
Kristen been working at Olivet for over ten years She began in August of 2009 as our Children's Ministry Director before transitioning to the Student Ministries Director in March of 2013. Kristen has been married for 24 years to her husband Brian and they have three children together. Kristen has a passion for worship and can often be found leading a worship team during Olivet's worship service..
Email:
olivetepc@gmail.com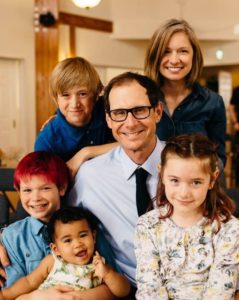 Sean Radke
Family Ministries
Sean and his beautiful wife Lisa of 17 years are excited to continue their mission in the States after serving the last 6 years in Japan, in student and family ministry here at Olivet. Together they are blessed with now four awesome children.
Email: sean.radke@gmail.com
Lorraine Jones
Children's Ministry
Lorraine just recently became Olivet's Children's Ministry Director in August of 2019. She is happily married to her husband Kyle for over 13 years and they have five beautiful children together.
Email:olivetkidschurch@gmail.com
Carrie Buchanan
Preschool Director
Carrie has been working with Olivet Preschool as a teacher for the last 6 years and as Director for the last 5. She is happily married to her husband Monty of 20 years and they have 2 super smart kids together.
Email: olivetpreschool@gmail.com